Rotation molding
For product substantially free of tension, no welding lines, huge impact resistance and measurement accuracy.
A hollow manhole mould is filled with polyethylene powder; then it is closed and rotated slowly while heated from the outside.
A shell of polyethylene is thereby formed on the inside of the mould.
After cooling, the mould is opened and the manhole removed.
Rotoniv's equipment:
Rotation: 4.5m
www.rotomachinery.com
Injection molding
For lighter products with increased resistance.
A reciprocating screw, driven by a hydraulic or electric motor, feeds the molten polymer into a temperature controlled split mould via a channel system of gates and runners. The screw melts (plasticises) the polymer, and also acts as a ram during the injection phase. The screw action also provides additional heating by virtue of the shearing action on the polymer. Then the polymer is injected into a mould tool that defines the shape
of the moulded part.
Rotoniv's equipment:
Injection: 1100ton and 1400ton
www.haitian.com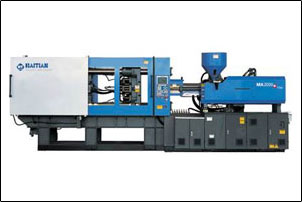 Rotation & Injection molding
of partial components: For more convenient storage of components with more agile shipments.
ROTONIV, as a leading innovation company, has developed a new streamlined supply chain by producing the manhole in smaller components: BASE and SEGMENTS, combining Rotation and Injection.
The "BASE" (bottom of the manhole) will be produced by Rotoniv in Israel, mainly by injection.
The "SEGMENTS" will be produced entirely by Injection by local facilities across Europe, close to the Distributors, and shipped to them.
The WELDING of these components will be performed by the very distributors using our innovative first-of-a-kind welding machine, which is capable to weld different components, no matter how they are produced
(by same or different techniques).
Rotation and Injection Integration

Welding
For getting a complete manhole if made out of different components. EXTRUDER WELDING: For getting a complete manhole if made out of different components,
all- made by rotational molding.
ROBONIV uses state-of-the-art technology to deliver uttermost features in finished product.
Depending on the specific product to produce ROTONIV uses choice of technologies.
"ROBONIV" welding for mixed-technique components: Our First-Of-A-Kind worldclass welding machine for different components coming from different molding techniques with subsequent different values in strength and thicknesses.